If you own an RV or camper, maybe you hit the highway several times annually, head for a warmer climate in the winter or climb behind the wheel only once or twice a year for vacation. Meanwhile, while you're not using your RV, you're still paying for ownership expenses such as loan payments, insurance, storage costs and maintenance.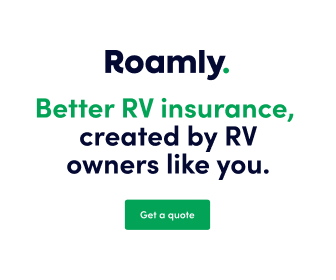 Those costs can add up to hundreds ─ even thousands ─ of dollars per year, but you can offset RV expenses by renting out your motorhome or camper when it would otherwise remain parked.  When renting out your RV or camper, it's important to have personal RV insurance in addition to rental insurance that may be provided by an RV rental site, says Spencer Cavins, director of business development at Outdoorsy, a peer-to-peer RV rental platform.
For example, even though insurance costs to the renter may be calculated into rental prices on some RV rental sites, the RV owner may want to purchase a personal RV insurance policy from a specialty RV insurer such as Roamly that allows the policyholder to rent in the first place. That way, the insurance is covering them personally and allowing them to list on rental sites.
Purchasing the right insurance for your RV or camper before you rent it is crucial, so check out these Go RV Rentals insurance FAQs to make sure that you and your vehicle are protected.
Which types of RVs must be insured?
By law, you must carry at least the state minimum insurance coverage on any motorized vehicle, including motorhomes and campers. That's not typically the case with pop-up campers, fifth wheels and trailers, but if the vehicle is financed through a lender, the bank will require you to have full coverage insurance, including insurance that covers the vehicle while it's rented to another driver through an RV rental site. Even if your loan is paid, it's still a good idea to insure the camper or trailer against theft, damage or liability.
Do I need a commercial policy if I rent out my RV?
If you rent out only one RV, you won't need a commercial insurance policy on the motorhome and can purchase a personal policy. However, if you plan to rent out two or more RVs, you will need to purchase a commercial policy for both or all the vehicles.
Why do I need additional insurance when renting out my RV?
You may already have a personal RV insurance policy purchased through your auto insurer, but most personal policies don't cover the RV when you rent it out. That means when you rent out your RV or camper on a peer-to-peer website such as Outdoorsy without additional rental insurance coverage, you are probably violating your personal RV insurance policy.
To avoid purchasing additional insurance for renting out your RV, consider purchasing a personal policy from a rental-friendly RV insurance company. For example, specialty insurer  Roamly offers RV insurance policies that don't prohibit rentals and include rental coverage.
Some RV rental sites may offer insurance that covers the renter only or both the renter and your vehicle. In either case, review coverage terms closely to determine whether you need to purchase additional insurance.
What coverages do I need when renting out my RV?
 As the owner, you must have at least the state minimum required insurance for liability and uninsured/underinsured motorist bodily injury for your RV. The vehicle must also be insured for at least the state minimum requirement for the renter.
Liability insurance protects you from being required to pay for injuries or damages from an accident that a renter causes during the rental period. Most states require liability insurance for all motorized vehicles on the road, including RVs. Property damage liability insurance covers repairs or replacement of another vehicle the renter hits while bodily injury liability covers emergency medical care for bodily injury to others.
Collision. Collision insurance pays for damage to your RV if the renter gets in an accident with another vehicle. When listing your RV for rental, the peer-to-peer rental platform or rental company may require you to provide proof that you have collision insurance to cover the vehicle.
Comprehensive insurance covers the vehicle for damage that's unrelated to a collision such as theft or damage from falling objects, storms, fires or other natural disasters.
Uninsured and underinsured motorist coverage. When another driver is at fault in an accident, this type of insurance pays for medical bills and RV repairs.
How much does RV owner rental insurance cost? 
RV insurance costs vary widely based on the vehicle type. Motorhome full coverage that allows you to rent out your RV typically costs between $600 and $1,200 annually while insurance for a small camper may be as little as $150 a year. Renter-friendly Roamly RV personal policies typically cost around 25% less than other RV insurance companies, since the insurer factors in a discount for projected rental periods during which the owner will not be driving.
As a bonus when you list an RV for rent, you'll save 10% on your Roamly insurance premium, in addition to any other savings that may be offered.