Now that you've purchased a new or used RV, you'll need to make sure that your motorhome, camper or trailer is protected with insurance coverage for any situation you might encounter on the road. At the same time, if you plan to rent out your RV or live in it full-time, keep in mind that you'll need a different type of insurance policy than you would if you will only use your RV recreationally a few times a year.
Even with different insurance needs for different kinds of RVs and owner lifestyles, there's no need to be intimidated by the world of RV insurance. Purchasing the right policy for your RV is simpler than you think, especially when you know what to look for.
What is RV insurance?
RV insurance protects your motorhome, camper or trailer in case you get in an accident, suffer damage to the vehicle or cause damage to property or another vehicle. If your RV is for recreational use, you will need a personal RV policy which typically prohibits you from renting out your RV when you're not using it. If you're planning to insure more than one vehicle, or plan to rent out your rigs, you'll likely have to purchase a more expensive commercial insurance policy. Some RV insurance companies, like Roamly, offer more flexible policies that let you rent out your RV even if you only have a personal insurance policy.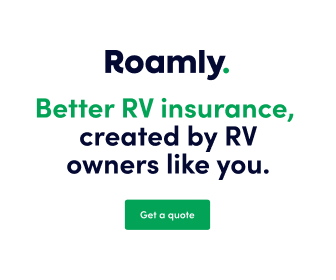 How much RV insurance coverage do I need?
Just like with your car, truck or SUV, you need proper coverage on your Class A, Class B or Class C motorhome. Your RV insurance coverage must meet at least the state minimum requirements for liability and uninsured/underinsured motorists.
Liability. Liability insurance protects you when you're required to pay for injuries or damages from an accident you cause. Most states require liability insurance for all vehicles on the road, including RVs. Property damage liability insurance covers repairs or replacement of another vehicle you hit. Bodily injury liability covers emergency medical care for bodily injury to others.
Collision. Collision insurance pays for damage to the RV if you're in an accident with another vehicle no matter who is at fault.
Comprehensive. Comprehensive insurance pays for damage unrelated to a collision such as theft and damage from falling objects, storms, fires or other natural disasters.
Uninsured and underinsured motorist coverage. If another driver hits you and is at fault for an accident, this type of insurance pays for medical bills and RV repairs.
Meeting only minimum insurance requirements on a rented RV is financially risky, since RV motorhomes are expensive. For example, new Class A motorhomes range in cost anywhere from $75,000 to more than $400,000, so full coverage is the safest financial protection.
How much does RV insurance cost?
RV insurance cost varies widely, depending on the type of vehicle, the owner's driving record and how often you plan to use the RV. If you want to rent out your RV when you're not using it or live in the motorhome full-time, you will need to purchase an insurance policy that covers the RV during rental periods or if you're living in the motorhome over six months a year.
RV insurance can cost anywhere from a few hundred dollars annually to several thousand dollars a year in a state such as Michigan where the median annual cost for RV insurance is around $4,000, according to Trusted Choice, an insurance broker directory. Michigan has exceptionally high premiums, however. The median annual cost in Oregon is only $1,100, according to the same source. And North Carolina has the least expensive RV insurance premiums, averaging about $860 annually.
Should I insure my travel trailer or camper?
Unlike with motorized RVs, you aren't legally required to insure your travel trailer, pop-up camper or fifth wheel. However, if you financed the vehicle and still owe on the loan, your bank will require you to insure your trailer or camper. Even if your loan is paid off, it's a good idea to insure the vehicle for damage to the trailer or camper and to protect yourself from liability.
Will I need to purchase additional rental insurance if I plan to rent out my RV?
If you purchase a personal RV insurance policy, most personal policies won't cover the RV when you rent it out. A peer-to-peer RV rental site may also offer its own insurance that covers both the renter and your vehicle. In that case, review coverage terms closely to determine whether you need to purchase additional insurance. However, even if a marketplace covers your RV during rental periods, many insurance companies include a commercial exclusion clause for personal RV policies that prevent you from renting out your vehicle. In the event that you need to make a claim, and they discover you're renting out your vehicle on the side, they may deny your claim outright even if you would otherwise be covered.
Even though insurance costs to the renter may be calculated into rental prices on some RV rental sites, the RV owner may want to purchase a personal RV insurance policy from a specialty RV insurer such as Roamly, a carrier specializing in RV insurance, that allows the policyholder to rent in the first place. That way, the insurance is covering them personally and allowing them to list on rental sites.
Roamly also discounts for the projected time you won't be driving the motorhome during rental periods, which lowers annual premium cost by around 25% compared with other insurance companies. On their website, they claim you can get a quote in 60 seconds.
What kind of insurance do I need if I live in my RV full-time?
If you're intrigued by stories of digital nomads living and working full-time from their RVs while roaming the country, you may be thinking about setting up camp for your own version of full-time RV living. If you live in your motorized RV full-time for more than six months a year, however, you should get full-time RV insurance, which typically costs a bit more than a policy for part-time, recreational use but typically offers broader coverages.
What factors should I consider when choosing an RV insurer?
When selecting an insurance carrier for your RV, it's best to purchase a policy from a company that specializes in RV insurance. For example, Roamly factors in your lifestyle, how often you will use your RV and even allows you to rent out your RV without violating the policy while saving around 25% compared to other insurance carriers. Get a quote now in 60 seconds!
As a bonus when you list an RV for rent, you'll save 10% on your Roamly insurance premium, in addition to any other savings that may be offered.