Cruising Toward the RV Rental Insurance Coverage You Need
RV Rental Insurance
If you dream of hitting the road in your own mini-resort — an RV rental with sleeping quarters, kitchen and views of mountains, lakes and all the other picturesque landscapes that define an RV vacation — you've come to the right place. Prior to setting off on your next RV rental adventure, however, you'll need to make sure you have enough RV rental insurance to cover any damage to caused by accidents, collisions or fender benders. 
You may be wondering what type of insurance coverage you need and how the a policy costs. Before you purchase RV rental insurance for your next RV vacation, check out these RV rental FAQs from Go RV Rentals to get started on the road to the right insurance coverage. 
Why do I need insurance when renting an RV? 
RV rental insurance protects you from having to pay for damage and injuries caused by accidents, collisions, fender benders and exterior damage to the RV during the rental period.
Without adequate RV rental insurance, you could be on the hook for hundreds — even thousands — of dollars if you're involved in an accident on the highway. Hitting a campground pole or another RV while backing up at a tourist attraction can also run up a hefty repair bill.
If you're not used to driving an RV — which is considerably larger than a car or truck — you also have a greater chance of accidentally damaging the motorhome. In fact, one of the most frequently filed claims RV owners file is size-related — for drivers hitting gas station overhangs and bridges.
Which types of RV rental vehicles can be insured?
Generally, RV rental insurance coverage is available for the main types of motorized RVs: Class A (luxury motorhomes), Class C (mid-size motorhomes) and smaller Class B or campervan motorhomes. Towable vehicles such as pop-up campers, travel trailers and fifth wheels also need to be insured.
If coverage is not included in the rental fee agreement through the RV sharing website or rental company, consult your auto insurance agent or an insurance provider that specializes in RV rental insurance to ensure you have adequate insurance coverage for the motorhome, travel trailer or fifth wheel rental.
Could my auto insurance also cover an RV rental?
If you currently have full coverage (not liability only), your current auto insurance policy might already offer liability, collision and comprehensive coverage for an RV rental. Depending on the insurer, you may receive RV rental coverage at no extra cost, or you may have to pay for an endorsement on your policy that offers temporary coverage on a rented RV.
Before purchasing RV rental insurance, contact your auto insurance agent to find out if your current auto insurance policy can cover you for an RV rental.
Where can I purchase RV rental insurance?
Most peer-to-peer rental websites, like Outdoorsy, conveniently offer insurance for both the renter and owner that covers the rental dates. But owners should be aware that their main RV insurance company probably doesn't allow RVs to be rented and may even drop your coverage. Luckily there's Roamly Insurance, where you can buy RV insurance. Roamly not only allows you to rent your RV and remain covered, but makes it hassle-free.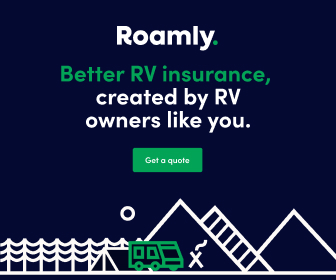 What kind of coverage do I need when renting an RV?
Just like with your car, truck or SUV, you need proper coverage when renting an RV. Your RV rental insurance coverage must meet at least the state minimum requirements for liability and uninsured/underinsured motorists.
Liability. Liability insurance protects you when you're required to pay for injuries or damages from an accident you caused. Most states require liability insurance for all vehicles on the road, including RVs. Property damage liability insurance covers repairs or replacement of another vehicle you hit. Bodily injury liability covers emergency medical care for bodily injury to others.
Collision. Collision insurance pays for damage to the rental RV if you're in an accident with another vehicle no matter who is at fault. The RV peer-to-peer rental platform or rental company may require you to prove that you have collision insurance to cover the rental motorhome or camper.
Comprehensive. Comprehensive insurance pays for damage unrelated to a collision such as theft and damage from falling objects, storms, fires or other natural disasters.
Uninsured and underinsured motorist coverage. If another driver hits you and is at fault for an accident, this type of insurance pays for medical bills and RV repairs.
Keep in mind that meeting only minimum insurance requirements on a rented RV is financially risky, since RV motorhomes are expensive. For example, new Class A motorhomes range in cost anywhere from $75,000 to more than $400,000, so full coverage is generally the safest financial protection.
How much does RV rental insurance cost? 
While costs vary, you can expect to pay from $30 a day for full coverage RV rental insurance. Factors that affect cost include the type and size of the RV, how luxurious or basic the motorhome is, coverage limits, your driving record and the deductible amount. A higher deductible lowers the daily rate for insurance, but you could pay more in the long run if you have an accident or collision.
Won't my security deposit cover damage to the RV?
When you rent an RV through a peer-to-peer platform or an RV rental company or dealer, the renter typically pays a security deposit ranging from $500 to $1,000, which is returned after the rental period unless you cause damage to the vehicle or fail to comply with terms of the rental agreement.
The security deposit could also be used to cover any damage to the RV not covered by insurance such as tire damage due to a blowout or a cracked windshield. The security deposit may also be used to pay for extra cleaning after the rental due to smoking or pet damage, exceeding the rental mileage allowance or canceling the trip within the penalty period.
Should I get additional insurance for my RV rental?
You may want to consider obtaining additional insurance coverage during your RV rental such as accident interruption insurance, which refunds the unused portion of the RV rental cost if your trip is cancelled due to an accident. Other types of supplemental insurance policies include those covering interior damage, windshield damage or tire and wheel protection.
Do I need to carry proof of insurance with me in the RV?
Most states require drivers to carry proof of insurance, so always keep proof of RV rental insurance in the vehicle. For more information on specific insurance requirements, contact the state insurance commissioner for any state in which you plan to drive. 
Now that you know which types of coverage you need for your RV rental, review the offerings available from where you're renting the RV. If it's not satisfactory or you need help understanding it, contact your auto insurance agent.
Alternatively, contact an insurance company specializing in RV rental insurance to for assistance. Then you'll be ready to hit the road for a truly carefree RV rental vacation.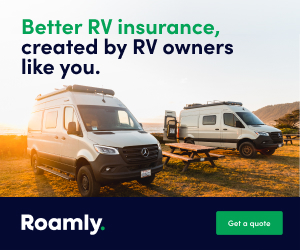 Why get 3 or 4 quotes for RV insurance?

Getting 3 or 4  quotes allows you to see an average price range. Also, you'll be able to compare the coverage options that are available. By looking at different companies you will learn more, ask better questions and most likely get the best deal to suit your needs.
Don't make a quick decision and possibly a mistake by getting only 1 or 2 quotes on RV insurance. Obtain 3 or 4 quotes like professional buyers do. Whether it's liability protection for you or comprehensive coverage for your motorhome, campervan or trailer, you need the right RV insurance.  
As a bonus when you list an RV for rent, you'll save 10% on your Roamly insurance premium, in addition to any other savings that may be offered.